Find Instruments that Make You Better
We're a Hometown Music Shop in Harrisonburg, Virginia

It takes most people YEARS to find the right gear, we can get the right gear in your hands.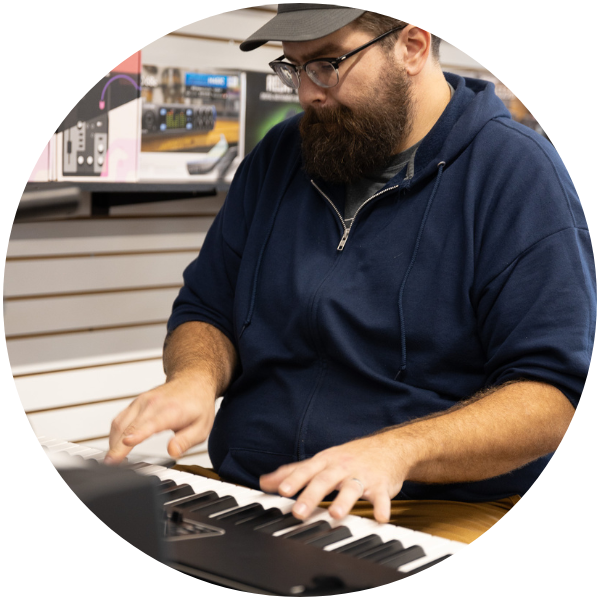 Discover
Fall in love with making music!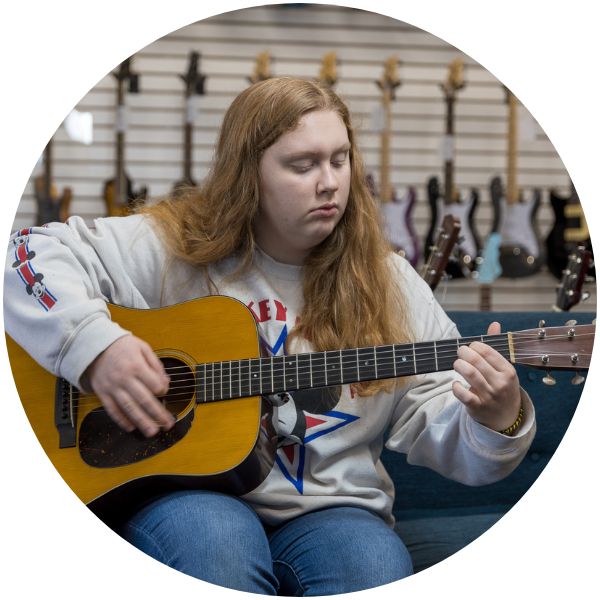 Grow
Push yourself to learn new styles and master your instrument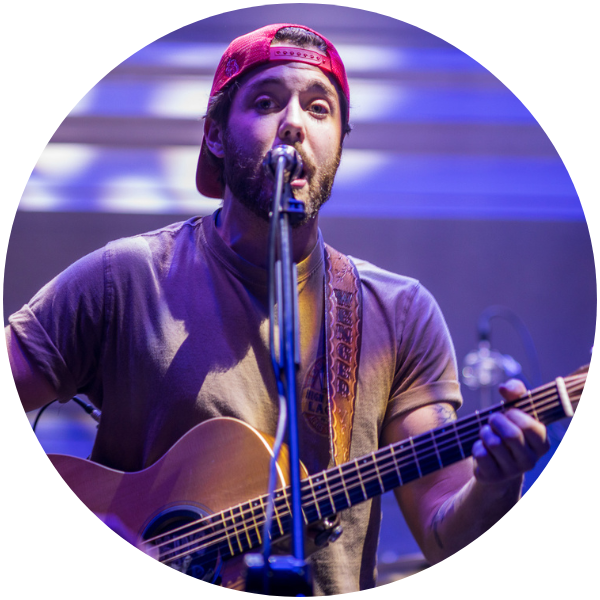 Create
Capture your music and create a community
We're with you for your whole music making life.
Harrisonburg is a musical place and has been for a long time. We're excited for you to join the ranks of those who have gone before you.
The heart of the Harrisonburg music scene has been creating music and supporting artists in their pursuit to make music and play it live in Harrisonburg and the larger music scene of the Valley. Musicians before you were supported by great guitar shops like Whitesel's Music, Wonder Records, The Guitar and Amp Center, Breckenridge Music, and Ace Music.
We're proud of being a Hometown music shop that gives music makers everything they need to create music.
The hardest part of being a musician in Harrisonburg has always been playing music live and recording that music for the world to hear.
That's why we've created Hometown Music. We are your unfair advantage to make your music a reality and to get that music out into the world.
Come see our shop, and talk with our knowledgeable staff so we can get the right instrument in your hands.

These guys are awesome! Great gear, great prices, and very service oriented! I'm always happy when they have what I'm looking for!
Hometown has always been more than gracious to me. They know their gear. Chuck and Steve have always done more than I asked. Steve knows how to set up my ax EXACTLY the way I love it. Thanks for the dimebucker boys and the setup. Can't wait to get down on that beast!
I bought my telecaster after coming back from Vietnam and when I wasn't able to play it anymore, I asked the guys at Hometown to sell it and they got me top dollar in just a few days. I would sell more guitars with them.

What kind of music do you want to make?

Try Stuff!
We'll ask you critical questions to find the perfect guitar for you.

Narrow the Search
A few instruments will stand out.We'll give you space to hear which one is right!

Find the One
You've done it! The right guitar is a faithful friend for life.

Thrive as a music maker
With the right gear, you'll be able to make music and community
---
We're just a part of the history of Music Shops in Harrisonburg

Early 1948

Whitesel Music Opens

Whitesel Music was in business from 1948 until 1978 and second only to Glen's Fair Price as
the longest running business in the history of downtown Harrisonburg. Early Whitesel's was
primarily focused on pianos, church organs, sheet music, band instruments and band
instrument rentals.

Early 1975

Chuck purchased his first guitar
A freshman at JMU, Chuck worked evenings at K-Mart to buy his first guitar.
1975

Ace Electric Company Opens
Ace fixed Chuck's stereo and sold him his first electric guitar amp.
1978

Guitar and Amp Center Opened
Warren Dovel opened The Guitar and Amp Center in Harrisonburg. His family had owned Shen Valley Band Supply on Liberty Street.
1985

Chuck made Manager at Ace
After graduating from James Madison University, and working full time for Ace Music, Chuck became manager of the store.
1986

Ace moved to South Main Street
Growing and expanding, Ace Music moved to South Main Street.
April 1st, 2000

Ace Music closed and Hometown Music was born
Hometown Music opened and sold Alvarez, Ibanez, Tama, Zildjian, and other brands of guitars, basses, and drums.
2013

Hometown moved to Miller Circle
We relocated our store to be closer to downtown Harrisonburg, and also be close to the soon to open Blue Sprocket Sound recording studio.
2020

The Explosion
A natural gas leak caused an explosion and completely destroyed our shop, the Blue Sprocket studios, and several other businesses at our Miller Circle Location.
January 2023

Joined the Blue Sprocket Family
Hometown Music moved into 1594 S. Main Street and formally joined the Blue Sprocket family. This new space is intended to be a hub for music in the Shenandoah Valley!
You can't afford to buy the wrong gear...
In your life, you're going to own a lot of gear. Some gear will help explode your playing and growth but some will make you question who you are and why you ever started playing music at all...
Those are hard to walk those off and you can't take too many hits before you'll give up on music all together.
We know what it's like to buy the wrong instruments...it's awful. That's why we've created a system to make sure you buy the right guitar the first time. We know what questions to ask and what specs to prioritize.
Good music shops have the thing you need in time for your show but great music shops have a culture and community around them...and they'll be front and center at your show too!
We want to be the best music shop in the Shenandoah Valley. We hope you belong to the community and that years from now, you'll look back on your time in our shop and with those friends as the most vibrant time in your life and it helped you create something beautiful and timeless.
Come see us and let's get to work.